2007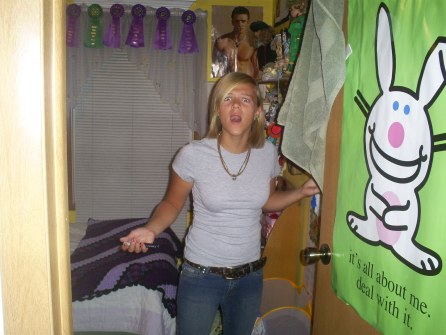 Rachel has a surprised look when I snapped her picture on the first day of school for 2007.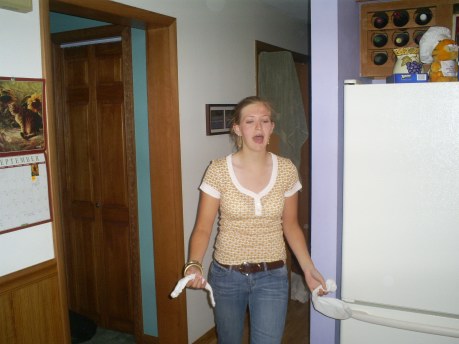 Emily has a similar reaction as I catch her on the first day of school.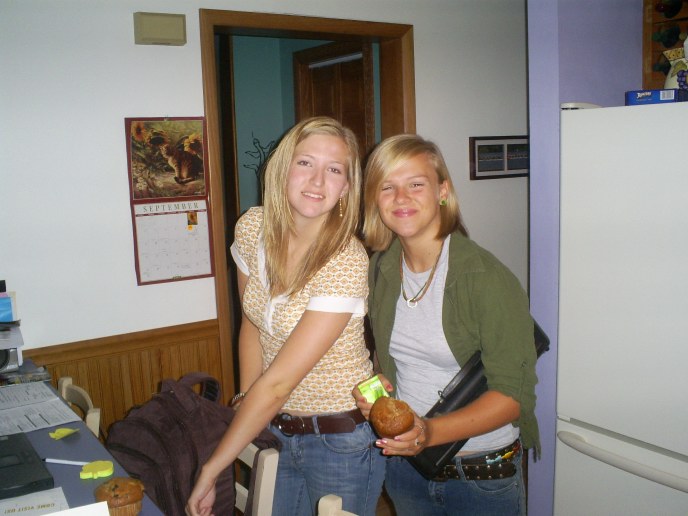 After all the preparation, In the end both girls were simply beautiful on the first day of school. My wife and I very blessed with two bright and talented girls.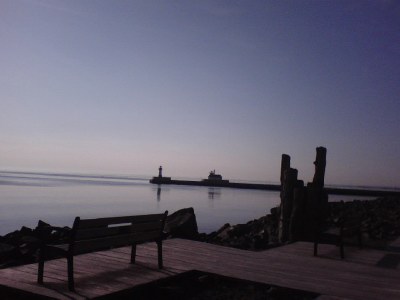 In 2007 Lori was able to work on the love of her life, traveling! Her new position held a conference in Duluth Minnesota and Lori sent us many pictures from her cell phone as she visited the sites in her spare time.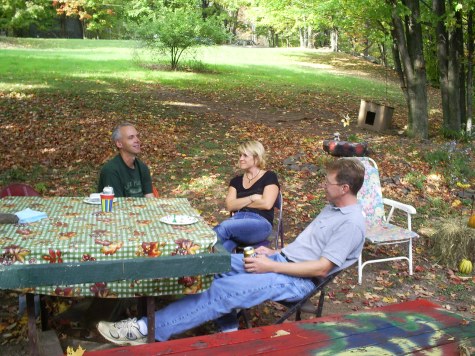 This year's Columbus Day's party at Bonnie and Bruce's farm proved to be great weather a nd a fun time for all. Here I relax with a few of Lori's cousins on this mild October Day.
All Columbus Day parties on my In-Laws farm include a free hayride. Here is Bonnie and Sherri and other relatives and friends enjoying a nice fall hayride compliments of Bruce and his tractor.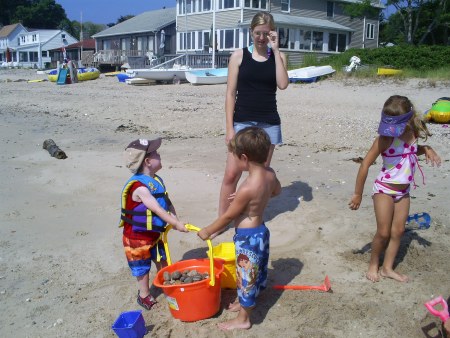 Emily looks on as our two nephews, Carter and Mike, discuss ownership of this very valuable bucket of rocks at Clinton Beach. Brianna is the worry free one on the right.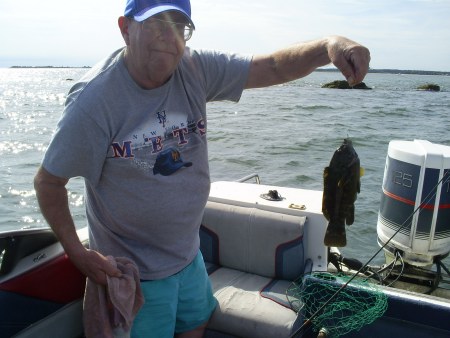 My dad proudly shows off his black fish on our annual family fishing trip at Clinton Beach. Although very plentiful 20 years ago, the black fish are much harder to find nowadays.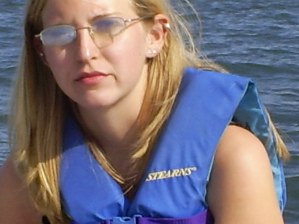 Emily looking bored and disgusted before catching any fish. We had been fishing for almost 20 minutes already....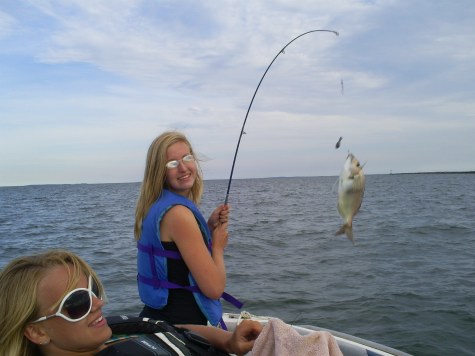 Emily AFTER catching what proved to be the biggest fish of the trip, a large porgy. She went on to catch 3 or 4 more on this trip as well.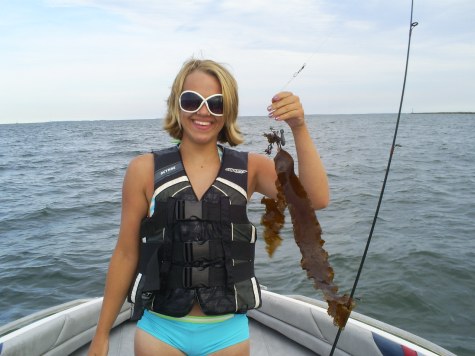 Not to be outdone, Rachel insisted she had a "Big one", in the end, another piece of seaweed had been ripped from the ocean floor. Gotta love those jumbo Paris Hilton shades though. Even without a fish on this trip, Rachel was styling.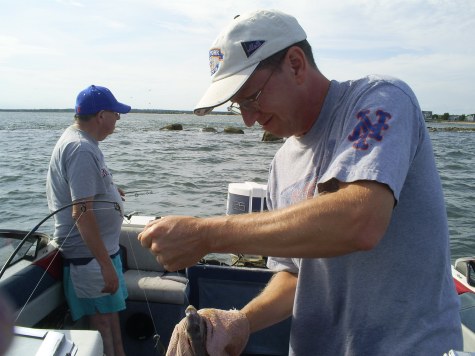 Yes even Captain Mike pulled in a porgy or two. Notice my dad's excitement for me. Can't wait to get the boat back in the water and soak up some sun.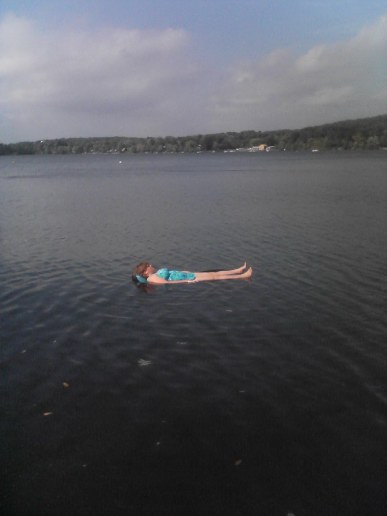 Lori enjoys a nice relaxing afternoon at the Jicha's lake house. We docked the boat up there for most of the Summer and visited the lake house and the boat often on weekends throughout the Summer. With our children getting older we have a little more free time on the weekends to just enjoy life and good company with friends.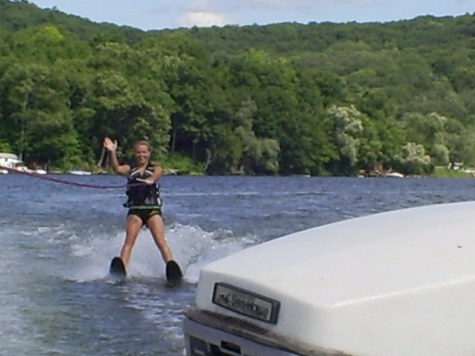 Rachel gives waves to the crowd as she FINALLY learns how to water ski at Copake.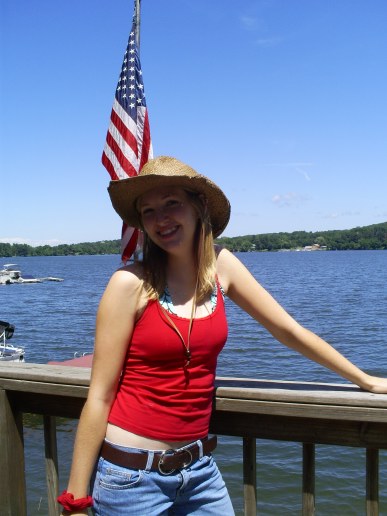 Emily works on Sundays at one of the stores as a manager, but on Saturdays she was able to join us at the lake and work on her tan.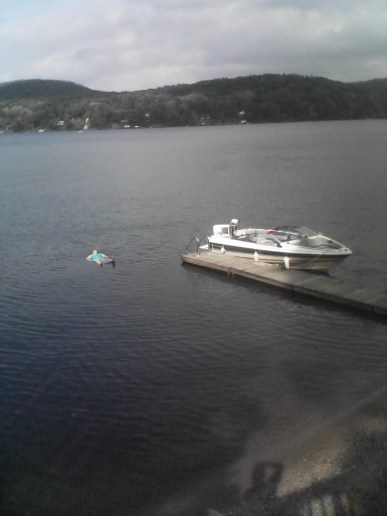 Lori keeps a close eye on my boat tied up to the Jicha's dock...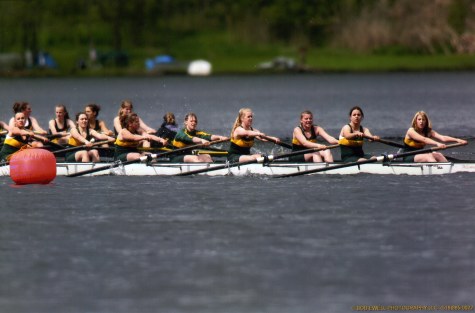 Emily was the stroke seat in the FDR JV crew shell. This year she will be in the Varsity boat. She runs miles each day to get herself into shape to have the strength and stamina to row stroke for an entire race. She travels to Saratoga, Philadelphia and other places to participate in races. If you didn't know, she is the one on the right in the photo. This year will be the 5th year Emily has participated in Crew, and her first year in the Varsity boat.
Here are my two daughters looking radiant, right before attending the annual Snowball dance this winter. Adorable dresses for two special ladies.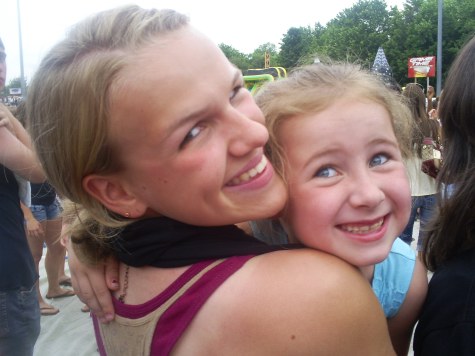 Rachel and Alyssa are all smiles at Kfest. My brother in law Jared was nice enough to get tickets for my girls. They saw Akon, Brooke Hogan and others this year.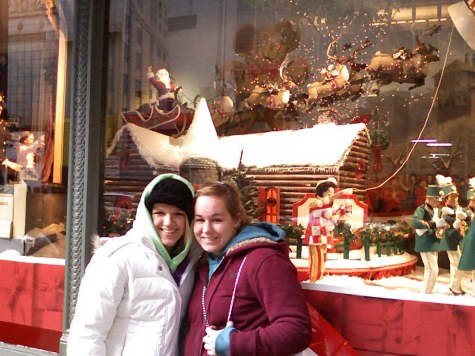 Rachel and Marisa pose in front of a store window in Manhatten in December 2007. Lori, Jean, Rachel and Marisa braved the cold weather and the crowds for a trip to the city before Christmas.
I concentrated very hard and had a unique technique when the family played a round of mini golf at Old Saybrook in Connecticut. Notice how I carefully slipped my right foot out of my flip flop before teeing off. This move really teed off my two daughters, but I ended up shooting one stroke below par for the game.
Lori won tickets to see the Lion King on Broadway and the two of us had a rare date in the Big Apple. We had a great time and best of all the tickets were my favorite price.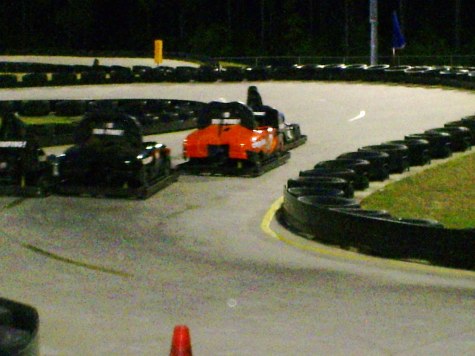 Rachel and I took a trip to Myrtle Beach, South Carolina with the FDR softball team to participate in a tournament. We went to Nascar Speedway and raced in super fast go carts. I was black flagged for agressive driving as I passed a car and bumped them when I went by.
Rachel tried the super fast cars and spun out 4 times forcing the operator
to come over and help straighten her car out. Driving was much more
difficult than Rachel once thought.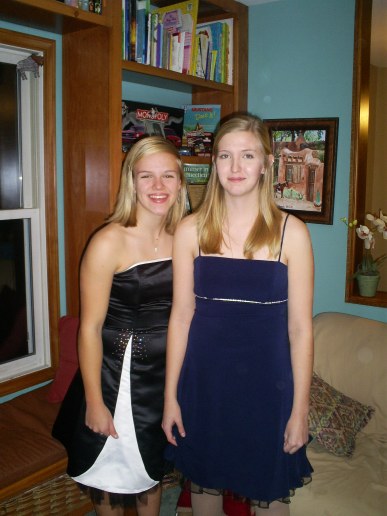 Emily and Rachel in this year's snow ball dresses, looking positively lovely.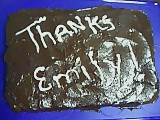 This year Emily worked in the Poughkeepsie City Courthouse for Mrs. Jicha. The civil department appreciated her hard work so much they baked her a cake and gave her a small party when she left. Emily actually had two jobs over the Summer working full time for the courts, and part time at the store.