2008 Softball

FDR VARSITY
Just when I think I've seen and done it all, I am amazed again. This year starts with Rachel deciding to try out for the Varsity team in only her Sophomore year. She makes the varsity team by playing hard at every practice. Although she played the catcher's position in the preseason, a week before we go to start the season in Myrtle Beach with a 5 game tournament, the Senior starting third baseman sprains her ankle, and Rachel is chosen as her replacement. In her debut at bat on the Varsity team, Rachel hits a triple and scores the first run of the season for the team. She later adds a single and another run scored as well, and does fine defensively at third. The next day in her second game she is the starting catcher and hits a double in her first at bat. Later with the bases loaded, she hits a ball in the right field gap and is waved around from third for an inside the park grand slam homerun! The team goes on to win all five games of the tournament and they take first place and a win a very nice trophy for each of the girls. Rachel played in all 5 games, and hit over .400 for the tournament.
The varsity FDR team finishes the regular season 22-2. Rachel spends the second half of the season as the designated hitter for the team. In our first playoff game for the local Mid Hudson Athletic League title, the team is losing by 1 run with 2 innings left to play. With the tying run at second at our home field Rachel comes to the plate, with Lori, myself and about 200 fans cheering her on. A few of the parents tell me this is a very high pressure situation for a sophomore to be in, and Lori is beside herself with nerves and can barely watch. I know my daughter well, and realize she actually enjoys these situations and feeds off the energy. After fouling a few balls back, she hits one hard back up the middle and the tying run scores. Lori and I are jumping up and down on the sidelines and the parents are all high fiving me. The next batter doubles Rachel home and we win the game and move on to the MHAL championships which will be played at the SUNY New Paltz college field.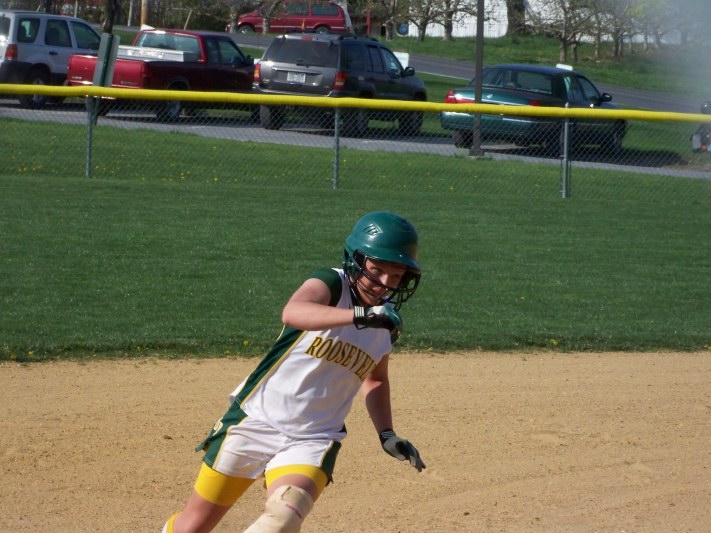 Here's Rachel determined to score as she rounds second.
As reported in the Time Herald Record...
Softball finals in full swing
June 07, 2008
Class AA
When: 6:30 p.m. at Minisink Valley, Slate Hill
Team records: Roosevelt 23-2; Kingston 19-5
Roosevelt scouting report: Roosevelt has been in the section finals the past three out of four years and is led by pitching ace Jen Reitemeyer. Reitemeyer allowed one earned run against Minisink Valley in the semifinals and struck out eight. Reitemeyer also had two doubles in the game. The other key hitters for Roosevelt are Rachel Conners and Korin Ditulli, who had the game-winning RBI against Minisink Valley.
We face New Paltz in the first round. Oddly enough we get behind 3-0 and some of the older girls are pressing at the plate. With runners at first and second with 2 out, Rachel comes up to bat. She again comes through with a single and drives in the first run of the game for FDR. This seems to loosen up the other girls and we rally back to win 5-3. Rachel is one of the three girls picked by the coach to be interviewed by the Poughkeepsie Journal. She is also video taped, and her comments are posted on the newspapers web site.
In the championship game for the MHAL title, with the game tied and a runner at first Rachel singles. The next batter singles and Rachel hustles to third and is waved around third. Although the throw to the catcher beats her by 2 steps, Rachel's very aggressive hard slide knocks the ball from the catcher and we have a very important insurance run taking a 2 run lead. We win the title MHAL title for the first time in nearly 20 years! The girls get another trophy and accolades in the newspaper...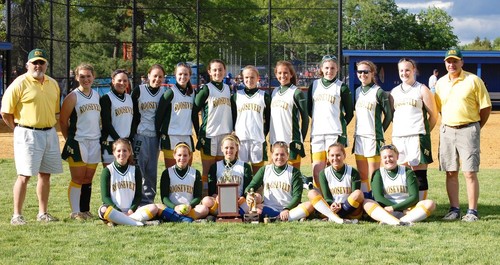 Class AA softball final: Kingston falls to Roosevelt
Kingston's Christina Boice pitched six innings and gave up 11 hits Saturday, taking the loss in the Section 9 Class AA softball championship game.Times Herald-Record/CHET GORDON
By Mira Wassef
Times Herald-Record
June 08, 2008
SLATE HILL — Top-seeded Roosevelt ended Kingston's breakout season with a 4-2 victory in the Section 9 Class AA championship game Saturday at Minisink Valley High School.
Kingston made its first sectional appearance in four years after three consecutive losing seasons.
"The seniors started something here that will go on for years to come," Kingston coach Brian Mills said. "Kingston softball is now back on the map."
Kingston battled back all season and had to do it again in the finals. Kingston trailed 2-0 in the bottom of the third after Lauren Hogan's RBI single up the middle gave Roosevelt the lead, but the Tigers answered in the top of the fourth.
Roosevelt ace Jen Reitemeyer walked two straight batters and Kristin Stefanowicz belted a two-run triple to right field to tie the score at 2-2.
"We had her (Reitemeyer) on the ropes and had a good rally going," said Stefanowicz, who had two hits and two RBI. "I'm just glad I was able to hit her and help my team."
Kingston had Reitemeyer in trouble with Christina Boice up at the plate and the go-ahead run on third with two outs before a 30-minute rain delay stopped the action. But when play resumed, Boice grounded out.
Boice pitched six innings, giving up 11 hits. Charlise Castro and Stephanie McCoy each had a hit for Kingston (19-6). Reitemeyer pitched a complete game, giving up five hits, and struck out 14.
"I don't think Reitemeyer lost her composure or ever got rattled," Mills said. "I think we came out too fired up and had some nerves the first couple of innings."
It remained a tie game until the bottom of the sixth when Kingston shortstop Ali Ferraro was charged with the error on a bad bouncer hit by Hogan. Then Rachel Conners' single put runners on first and second before Korin Ditulli laced a two-run single to decide the game.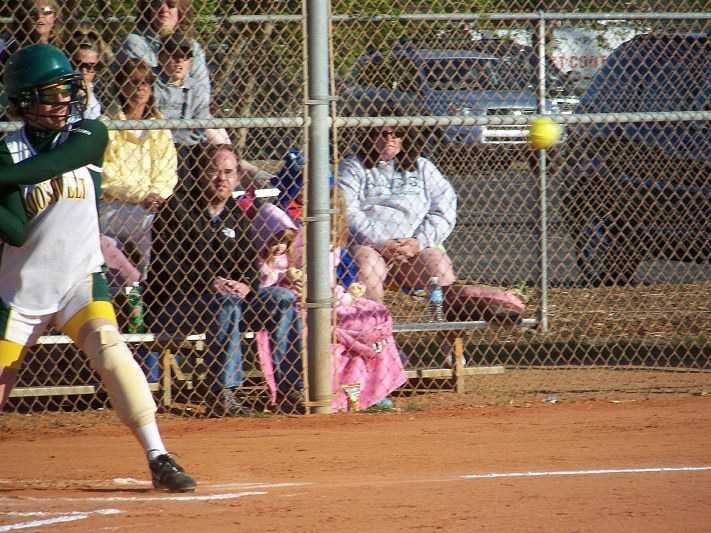 A friend of ours got this great shot of Rachel, she hits this pitch for a single in Myrtle Beach.
We played in Rockland County for our next game against Yorktown. We end the season one of the top 16 teams in the State! The winner of this game would go on to play for the State title in Binghamton. Unfortunately, despite Rachel's 2 hits, the school's season ended with a loss to Yorktown 7-3.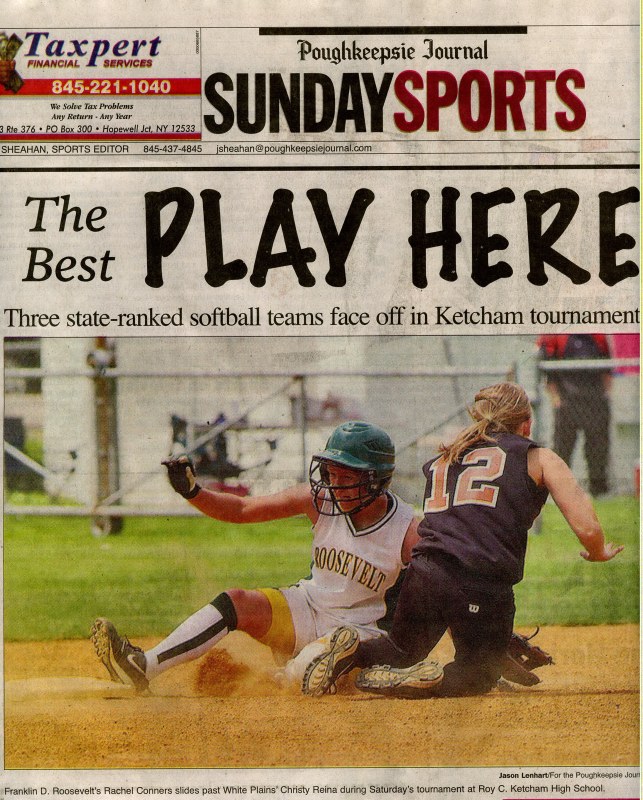 In the Spring of 2008, it seemed like everyday either Rachel or Emily's name or picture was in the local newspaper!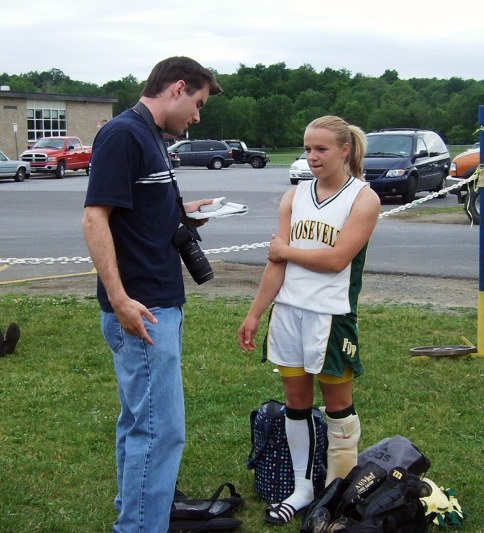 Here's Ray being interviewed by the Kingston Freeman newspaper after a big hit in the playoffs.
HYDE PARK SENIOR LEAGUE
In the spring, I am asked to coach for the Hyde Park Little League. This year I coach the Senior League softball team for girls ages 15 & 16. Our team goes 11-1, with Rachel playing third base for most of the games and hitting well over .600 for the season. I am named manager for our town's tournament team, which is the little league world series for girls aged 15 & 16. The only other team to enter from Dutchess County is the Fishkill team, which we beat easily our last game of the regular season 11-1. We played them a best 2 out of 3 to determine the winner of Dutchess County who would move on to face the Orange County champion. I could only get 12 of our 14 players to commit to the team, so I choose 2 girls from the younger league who were both age 13, a pitcher and a fast utility player. I also choose 2 girls from our team with not a lot of talent, but a ton of heart and competitiveness. They had never been chosen before for the town's tournament team and they were both emotional when I told them I wanted them to play for us. Both of their parents, privately thanked me for choosing their daughters, and told me they were very nervous and were practicing extra in an effort to contribute to the team. In our first game against Fishkill, we go scoreless into the 3rd inning. Rachel, who has been my leadoff hitter for 8 years, hits some of the hardest line drives ever, right at their left fielder, who catches all of them for the out. Other players hit bloops that drop in however, and we have a 4-2 lead in the 6th. Our starting pitcher, who is our best, told me she pulled a muscle in her leg before the game. After she uncharacteristically walks three girls in the 6th, I decide to remove her despite her protests. Her relief strikes out the side and retires the side effortlessly in the 7th for the save. The starting pitcher did not forgive me that night, and did not say another word to me after I pulled her, only slightly expressing a grin through her tears when I asked if I was still on her Christmas card list.
Our second game against Fishkill goes much easier as we win 7-3, and are named District 17 of Dutchess County champions. We are set to play against Cornwall of Orange County at our home field 4 days later. Cornwall leads off the game with 3 straight singles and scores one in the first and it remains a 1-0 game until the top of the 6th when Cornwall scores 2 more to take a 3-0 lead. I told my girls we had 6 outs to score 3 runs and remind them we have only lost 1 game in our last 14. With 1 out Rachel singles hard up the middle. The next batter who is struggling and frustrated, sacrifices Rachel to second. With two outs, our number three batter singles, scoring Rachel for our first run of the game. Rachel is SUPER competitive and slaps the next batter's hand hard after she scores pumping her up saying "it ain't over, keep it going Britt!", on cue Brittany doubles in a run cutting Cornwall's lead to 1. The next batter singles, and I wave Brittany around third to try to score the tying run. She hesitates as she rounds third because as our catcher she knows she is the slowest runner on our team, and is out by four steps at home. In the dugout I let the girls know that it was my mistake and remind them we have narrowed the lead to 1 run. In the top of the 7th after retiring the first two batters, our pitcher hits the next two with the pitch and Cornwall has 2 on and 2 out. I called time to talk to the pitcher, who incidentally is the same pitcher who I removed from our first game, and has barely talked to me since. Before I reach the mound she asks "taking me out again?" I calmly replied "No, you are the only pitcher experienced enough to handle this kind of pressure situation, if your arm still feels good, I want you to hold them so we have a chance to win it in our last bat" I remind her that there are two outs and to let our defense show off their skills. I don't remind her that the batter is 2 for 3 with an RBI though. She nods and gets the batter to pop up to second for the final out. In our final at bat in the bottom of the 7th, I remind the girls that we need one run to tie it, two runs and we win it. As I jog to the third base coaching box I overhear the Cornwall coach telling his girls, "we have had the lead the whole game, get me three more outs and we win." The loser of this game will be out of the tournament and their season will end, the winner will continue and face the champions from Ulster County, who have already beat the Columbia County team. Our first batter, the number six hitter, fouls out to the catcher for the first out, the next batter strikes out for out number two. The Cornwall parents, coaches and bench players are all very loud now as they can taste this victory. The next batter is our pitcher who quickly gets two strikes and looks down at me in the coaching box at third base for advice, "shorten your swing, be tough with two" I yell, not showing an ounce of my thoughts that she is struggling with the bat, and I am coming to grips with the fact that this may be our last game of the season. She follows my advice and fouls the next two pitches back. Finally, she hits a bloop single that drops in between the center and right fielder and we have the tying run on first with 2 outs. The next batter is our number 9 hitter. She is one of the 13 year olds I took from the younger league. I called time as she walked up to the plate, sensing her nervousness. She asks me if I want her to bunt since she has grounded out weakly her first two times up. I laugh at the thought of bunting with two outs and say "bunt?....YOU'RE A HITTER, I want you to launch one for us! She seems surprised at my response and nods walking to the batters box. She takes the first two pitches right down the middle for strikes and is quickly in the hole. Once again the Cornwall crowd is getting excited as they are one strike away from ending the game and continuing on in the tournament. The batter swings hard at the next pitch and hits a deep fly ball to center, the fielder runs and lunges for it, but it drops in. I hold up the runner at third and the batter ends up with a double. Frankly, I am beside myself, as each time my batter got the second strike on them, I was sure our fate would be sealed on the next pitch. I realize Rachel is the next batter, and now I am excited. Rachel has come through with MANY clutch hits for the school varsity team and already is 2 for 3 for the day. I give Rachel the universal "stay calm" symbol, pushing my open palm hands towards the ground three times. She nods and takes the first pitch for ball one. She fouls off the next pitch straight back. She explodes on the next pitch hitting the ball deep into the gap in left center field. The center fielder leaps but the ball is well beyond her reach as I wave my arm vigorously for the runner at second to score the winning run of the game. She scores without a throw and we win as the team mobs Rachel at first base for getting the game winning walk off single in the bottom of the seventh. I am jumping up and down as I run towards first to give Rachel a congratulatory hug and kiss. Our home crowd is wildly cheering, and I could see the entire Cornwall team in tears, and a few parents too, as the were in disbelief of what they just witnessed. Their coach exclaimed "you have a hell of a team there" as he shook my hand congratulating me on our miraculous come back win. The newspaper the next day described it as a "Dramatic comeback win for Hyde Park."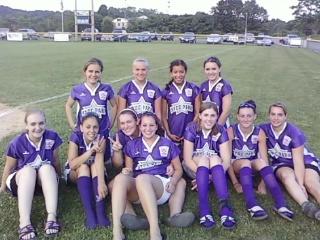 Our next game was against Hurley, the Ulster County champion. My call to the Hurley coach for directions was brief and he suggested I check the website. He also noted that he read about the exciting finish to our last game. When we arrive at Hurley, the intimidation game starts. They have a dozen championship banners hanging around the field, the director asks for our documentation and takes it away for review. (We must carry proof of the players ages and proof that they reside in the Hyde Park boundaries.) Just as I step onto the field for our 10 minutes of infield practice I am summoned to the grandstand for "problems " with our paperwork. My assistant is forced to hit infield as I am scolded for not having two copies of residency documents for sisters who live at the same address. I realize this is a ploy to force us out of any routine we may have and give their team an edge. My coach and I are summoned to home plate for a conference where another supervisor and the umpire explain to us that they will not tolerate any coaching from the sidelines by the parents, especially any parent calling pitches for our pitcher. I retort that our girls barely listen to our instruction and NEVER listen to their parents so there won't be any problem. They were not amused, and the umpire then instructed us that in the unlikely event we wanted to discuss one of his decisions, we had better call time first and wait to be recognized. In my eight years of little league, I had never experienced this level of discourteousness and rudeness ever. I expressed to the opposing coaches and umpires that unlike them, we were not a travel team and we were just there to do our best and have a good time. It is customary to announce each player and coaches to the crowd before the game starts on the public address system, as you probably surmised, they announced their team and coaches and our players, and never acknowledged my coach or I at all. Needless to say at the start of this game it suddenly became personal, and I had an overwhelming desire to walk away with the win. This one would be a battle as in the first inning after it appeared we had doubled off their runner at third, the umpire called obstruction on Rachel as they two bumped each other as they scrambled to the bag. We perform well and take a 6-2 lead into the last inning. I overhear the Hurley coach tell his team, they came from behind to win their last game and we can too. Our pitcher, yes again it is the one who still hasn't forgiven me for removing her from our first game, gives up a triple and 3 consecutive singles and they score a run with one out. I called time and walked to the mound. I told our pitcher, you got me into this mess, no it's up to you to get me out of it. I offered her some sunflower seeds, which she accepted. I reminded her that if all three runners score before we get the final two outs, it's still only a tie game, so she should be aggressive and throw the curve and change up to keep them off balance. She grabs another handful of sunflower seeds and stuffs them in her pocket. I remind her that if it is hit back to her she should go to the plate with her throw. The umpire comes to the mound and tells me times is up, let's play ball. Our pitcher strikes out the next batter for out number two, which brings up their leadoff hitter. My assistant coach theorizes that our pitcher is getting tired and the hitter will probably pull it to left center, as she has hit fly balls her last 3 at bats. He asks if he can move the centerfielder more towards the gap, and I agree. On the very next pitch the batter hits a fly ball exactly where we moved the centerfielder to and she catches it with ease. We leave Hurley with the win and are recognized as one of the top eight teams in New York State!
We play Haverstraw, the Rockland County champion two days later at our home field. The winner would be one of the top four teams in the state and would play in Weschester for the State title. Our problem was that our shortstop and centerfielder had a vacation planned and can not make the game. We go on to lose against an extraordinary pitcher, 10-1. I was exceptionally proud of my team and their accomplishments. Every team we played underestimated us, as we were smaller in stature then our opponents. We also didn't have a "superstar" player as many of the other teams had. In each one of our wins, a different player stepped up and came through for the team. This will be the second time in three years Rachel and I have been on a championship team. Next year will be the last year we are eligible to participate in Little League as Rachel will turn 17 in November. Maybe we have saved the best for last.
FALLBALL
This is the last year Rachel is eligible to play Fallball, so I agree to coach the 13-16 year old team one last time. We play 1 game a weekend for 8 weeks in September and October. Our team is good and we win 7 and only lose 1. The one loss is to the Dover team, which Rachel and I recognize is the Varsity team for Dover, simply using this league as a practice. We had 2 good pitchers all season, then at the last game one of our pitchers doesn't show. In Fallball you have to switch pitchers after 4 innings to make the game competitive. I decide to ask Rachel to pitch to start the game and she throws 2 innings allowing only 1 run, then we had another girl who only pitched in practice but never in a game throw 2 innings, and she does well too and we go on to win our last game of the season. A 2 day tournament is held the first weekend of November where we play 3 games on Saturday, then play Sunday until you lose or win the tournament. Once again our second pitcher bows out, so I have to ask girls who have no experience pitching to give it a try. Our first game at 9:00am is against Dover who gave us our only loss of the season. Their coach is VERY competitive as her team is on the field when we arrive shagging grounders and hitting in the batting cage. I find this strange, since we will be playing 3 games today for a total of 21 innings of softball. My girls arrive dragging their bags sipping coffee and then perk up as someone brings a box of Dunkin Donuts and they devour them in record time. In the blink of an eye we have 5 run lead and win 7-2, finishing the game with an inexperienced pitcher lobbing in pitches the Dover team hits for harmless pop ups. Game 2 is against Red Hook, which had a one run lead against us through 5 innings, when the Red Hook coach realizes we are 20 minutes away from the 2 hour time limit and openly tells his girls to slow down between innings. We pointed out to the umpire that the Red Hook catcher was brushing her hair before putting on her helmet and the umpire tells them to step it up. Never to be outfoxed, after we quickly go down 1-2-3, Rachel instructs the team to not bring any balls out for warmups. At the end of the inning, my team sprints to the field and tells the ump we are ready to play. The umpire laughs out loud and says there isn't a warmup rule and commands the Red Hook team to present the batter. We get them out 1-2-3 and tie it up with minutes to spare. In the bottom of the 7th however Red Hook scores the winning run and we have our first loss. The third game of the day is against Beekman, where the tournament is being hosted. In the third inning the one of our weaker hitters hits the ball hard, it was an absolute rocket that catches the pitcher in the forehead. She immediately drops to the ground as I and other coaches rushed to the mound. I was shocked to see her immediately sit up and grab her head while crying. Rachel throws me an ice pack within seconds, but the girls dad rushes to the mound and pulls her hand away to uncover a golfball size contusion that has formed. He screams at the top of his lungs, "Oh my God, Oh my God, call 9-1-1", and now the pitcher is hysterical. I noted that she didn't lose consciousness and had a clear airway, and breathed a sigh of relief. The ambulance drove onto the field and took her to the hospital. The delay was about 25 minutes and all other games were finished so we moved under the lights to finish our game. We manage to score two runs in the last inning to end the game in a tie, the opposing coach and I saw no reason to continue to extra innings on a traumatic day. The next morning we learn that the pitcher had indeed sustained a fracture of her orbital socket and would require surgery. She was in good spirits and was home. Her dad came to the field to speak with me and our batter to convey that they had no ill feelings whatsoever. My team decided to sign the game ball and gave it to her dad to give to her along with our thoughts and prayers.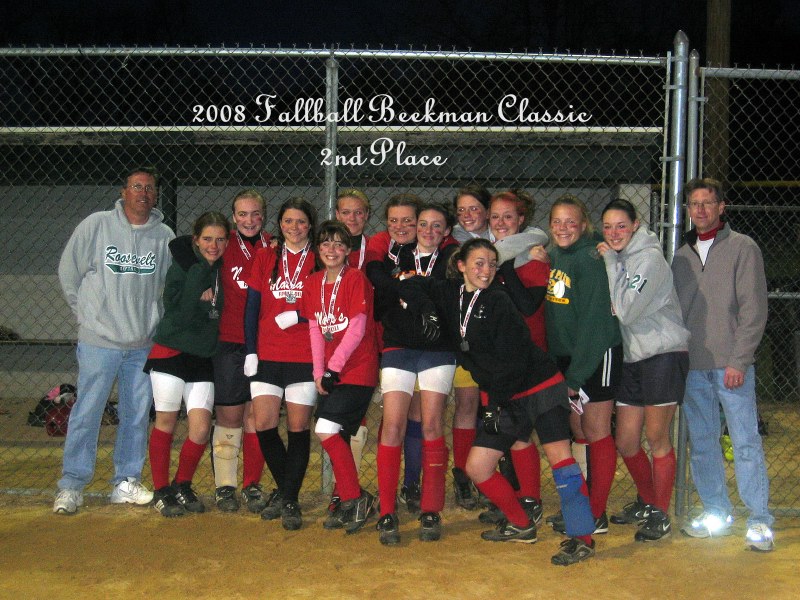 We continued in the tournament beating Fishkill, where Rachel pitched to a much younger inexperienced team for the win. Our second game was against Red Hook, with the winner going on to the championship game. We grabbed an early lead and never looked back for a 7-3 win. In our final game against the Dover team, although we took a quick one run lead when Rachel doubled and scored on a groundout, eventually on a cold night under the lights in November, we lost 5-2. As second place finishers we, all received a medal, however this ended Rachel and my three year run as champions of fallball. It was also Rachel and my last Fallball game, as next year she will not be eligible. I coached Rachel and her team for five years in fallball, and placed first in the season tournament finale three times and took second place the other two. Although I'll miss coaching in the fall, it is time for Rachel to move on to bigger and better things. It is only fitting to note that the first three years Emily was also on the team and contributed greatly to the tournament wins. Eventually her love of the water and obvious natural talent in a crew shell, moved her on to a much larger stage, as her talents took her to Tennessee to last year's scholastic nationals.
I am a very lucky and very proud Dad to have two beautiful and talented daughters who are such great athletes.