Merl's Mame Arcade Machine


Construction

The first step was to mark the sides for cutting. I started cutting with the circular saw but quickly realized I was more accurate with the jigsaw. After cutting the first side I placed it on top and traced it so that any flaws would be reproduced for two equal pieces. I cut the platform for the base, added the wheels and attached the sides to it. That is when I realized the swivel casters hit the side of the cabinet. Sooooo, I took apart the sides and raised the platform in order for the casters to clear when they swiveled. Enough for the first weekend.
Next step was to cut shelf for TV. I got my wife to help and measured exactly where the screen would be. This was the only place I put screws through the sides of the cabinet for strength. (Didn't want the TV crashing to the floor). All other places I used various size "L" brackets. I marked the screen position on the sides of the cabinet.. It was at this point that I realized I needed to design everything else around the control panel. I built the panel box and set it on to cabinet. Now even my young daughters realize this thing actually might be coming together!
I did all the rest of the inside work, before I attached top and back panels. This included installing fluorescent light, installing fan, and wiring household switches to each. I went with a duplex switch setup. One switch powers the fan (I went with an adjustable speed type), the other switch powers the outlet the CPU is plugged into, and turns on the marquee light.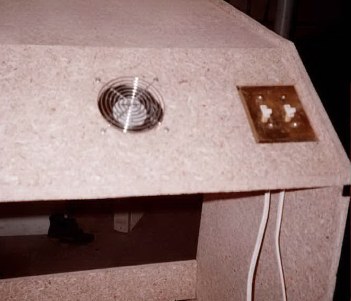 The outlet is powered by a power cord that is plugged into a wall outlet. One outlet is live all the time (for TV), the other is connected to switch (CPU, light, speakers).
Now I finished assembling the cabinet and concentrated on the finishing. After experimenting with a back saw to cut the groove for the t-molding, I realize I need a better plan. Fortunately, my friend (and boss), Steve, lends me his router AND the fan blade 1/16 bit! Worked like a charm. Loads of dust though. After cutting the hole for the coin door, I'm ready to paint. I choose Glidden evermore semi-gloss and a smooth roller. Two coats later, this thing really started to look good!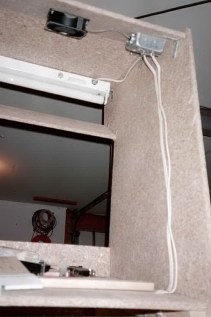 I re-installed the coin door, and start to install t-molding. Using a rubber mallet, it simply snaps into the groove (thanks again Steve). A few careful cuts to make the turns and WOW, the t-molding is awesome. This thing really looks like an arcade machine!